Tour North Georgia Mountains:
After leaving Phoenix, I landed in the North Georgia Mountains to visit with
Jen
. I also got to see La who scheduled her trip to Jen's to time with mine-how considerate of her! The first day I was very busy helping Jen and her husband, Jared, finish up the guest room so La and Mr. La would have somewhere to sleep. Jen and Jared just recently moved to this house from Los Angeles. They're planning to start an alpaca farm at this old farmhouse. Jen has an old bed that was built for her great-great grandfather when he was a little boy and Jared "roped" it so it would hold a mattress. Jen and I watched, then I helped him test how tight the ropes were by swinging from them. It seemed pretty sturdy.
The next day we cleaned house and started making dinner for La and Mr. La's arrival. As soon as they got here Jen and La started having margaritas and running around in the rain instead of finishing the dinner. Well, someone had to do it, so I stepped up to the plate-so to speak.
I got lots of compliments on my cooking skills. Everybody was very glad that I stepped in to help. And even though I was the victim of a practical joke, it was still fun. Just to show them I wasn't mad, I seamed up La's Mariah sweater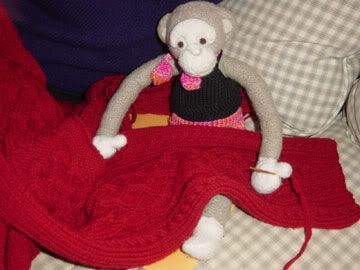 La finished that sweater months ago but couldn't get up the courage to sew it. I just taught her a simple mattress seam. Jen made a joke to La about how it's so easy a monkey could do it, but it's true. We also went to a Lake. I think it was Lake Seed, but it's connected to Lake Rabun and Lake Burton and Jen lives near the Soque River, so I could be confusing the names. It was kind of cold, but it was very pretty and we got to drive up a remote dirt road to get there. Mr. La was holding on for dear life. Jen and La were looking at catalogs. I was thinking how fun it would be to drive. Mr. La would REALLY be afraid then! Here's a picture of the lake: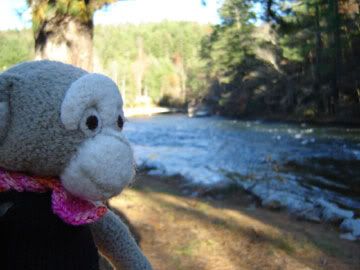 We stopped at a store by the lake and bought Jumbo Boiled Peanuts because La and Mr. La had never had them and Jared really loves that store's cajun style ones. La and I thought they were really good. The lake has a lot of vacation homes with matching boat houses, but since it's a cold time of year and it was the middle of the week we had the run of the place. We set our picnic out in the sun. I ate a lot of grapes and peanuts, but there was a roasted eggplant and tomato basil dip that I helped make and it was my favorite after the boiled peanuts.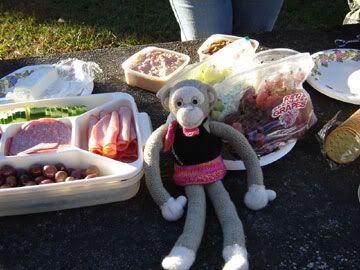 We had to hurry because the sun was setting early in the mountains and it was getting cold. Tomorrow I'll show you what we made when we got back to Jen's.