Over the past couple of days Zira has gone on a couple of road trips with us. She's seen lots of things! I'm going to have to break this into a couple of posts, I think.
On Wednesday, Claire, DH and I set off for Gros Morne National Park for a day of hiking, photography and exploration. We stayed at DH's parent's cottage on Bonne Bay Pond. It is only about a 5 minute drive from the entrance to the park (just south of Wiltondale).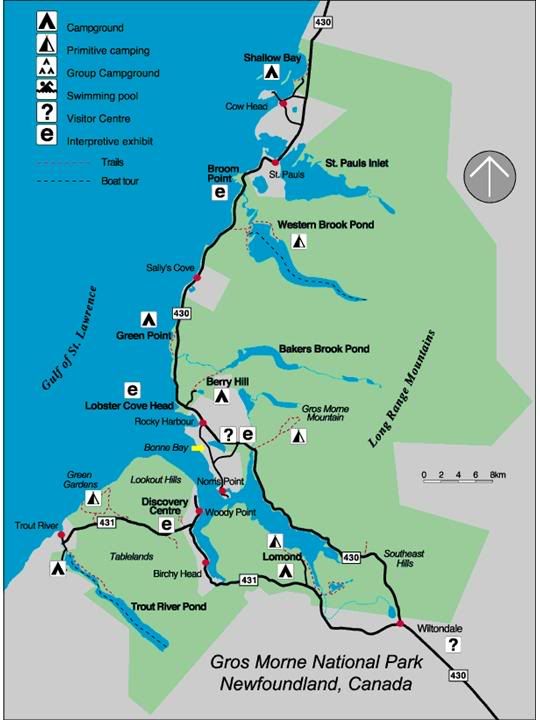 I apologize for the huge photo. I lose too much detail in maps if I use photobucket to shrink the image. Frankly, photobucket seems to shrink my photos according to some strange rules I fail to comprehend....hence the various sizes of photos in my posts. Anyway, you can look at the provincial map in the last post to see where in the province the park is.
Here is Zira, entering the park: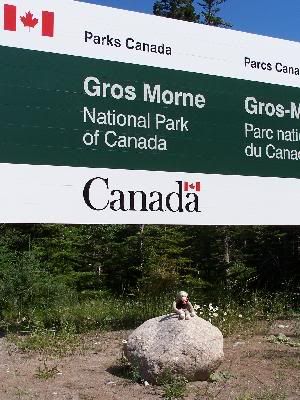 Ok, she's sort of hard to see sitting on that rock. It was a BIG sign on the side of the highway and I was risking life and limb standing there helping her pose.
Our first stop was in Woody Point. Thanks to Google Image for the next 3 pics. Here are some buildings in the town.: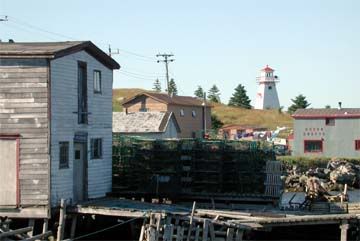 This is Woody point with the Tableland mountains in the background (photographer facing south). Tune in next time for more information about those:
Here is the town with Gros Morne mountain in the background (photographer facing north). Wouldn't it be great to wake up every morning to
those
views?
Here is Zira enjoying the salt air in Woody Point (photographer facing east) while DH and I enjoyed a cup of coffee and Claire slept in the car: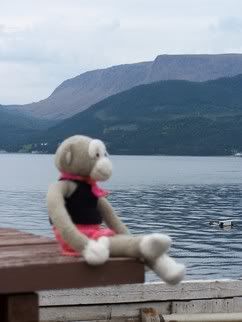 Zira also admired a dory (traditional Newfoundland fishing boat):
While in Woody Point, I went to visit Aunt Maggie's Homespun. I read about this gem on the
Yarn Harlot's blog
last summer and decided that if I was in the area I was definitely going to stop in. I got 10 skeins of 100% wool yarn and some caribou antler buttons for $31.50 Canadian (we will be having a tutorial about Canadian currency another day but I assure you this is darn cheap). The proprieter of this business was very sweet and helpful and I left her shop a happy knitter. I will post a photo of my haul soon - prepare to be jealous!
Unfortunately, at this point, a light rain started. We were planning on hiking in the tablelands and so we stopped at the park's Discovery Centre and bought a rain poncho to keep DH and Claire dry. We were going to buy two but they really ask a lot for those things. I'm not made of sugar....I was certain I wouldn't melt.
By the time we left the Discovery Centre it was raining a little harder. And, even though I won't melt, spending the day feeling like a drowned rat is no fun either. We decided to head on down the road to Trout River to have some lunch and wait for the rain to pass. Here is Trout River (Google image again):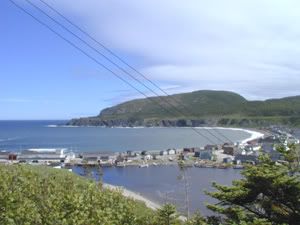 Here is Zira, sitting on a protective ziploc bag, in Trout River: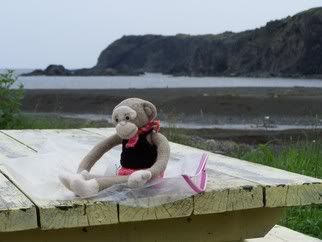 We ate lunch at the Seaside Restaurant (traditional pea soup for me, seafood chowder for DH and cheerios for Claire) and chatted with some folk from Ontario about different types of fish (should we discuss fish?) and how pretty Newfoundland is.
By the time we left the restaurant it was raining cats and dogs. It was gross. Low fog over everything. We promised DH's parents we would go to Rocky Harbour to buy fish for dinner so off we went there. I'm an amateur photographer and Rocky Harbour is a great place for photos so at the start of the day, I was eager to go there. By the time we arrived, I knew I wasn't going to get any photos. Zira had to stay inside the car and wait with me and Claire while DH went to buy cod. I did take my SLR and the rain poncho out for one pic....we'll see how it turned out when the film comes back. I was a little disappointed we couldn't do more there.
On the way home from Rocky Harbour we noticed a waterfall and a short hike to it (I love photographing waterfalls). The rain was starting to let up so we decided to try it out. It was sort of fun, in a soggy way. Here's Zira by a tiny portion of the falls: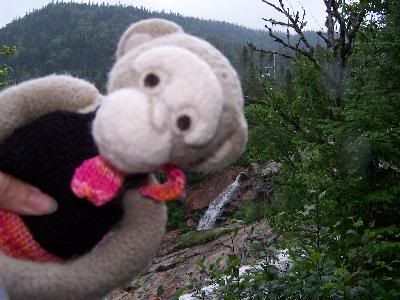 Pardon my thumb. It was still a bit wet and I didn't want to set her down anywhere. The blur is also a result of holding a monkey with one hand and a camera with the other.
By the time we finished that hike it was getting late and we were eager to get back to the cabin. On the way there we passed this sign: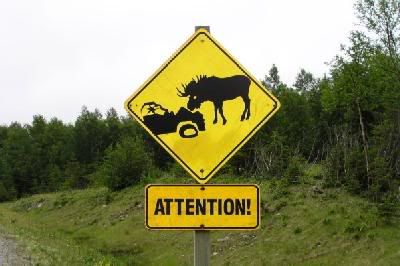 Yup, that's a picture of a huge moose crushing a car. I'm sure we've all seen signs with pretty deer on them to warn you they are in the area but a sign that illustrates the magnitude of damage an animal can inflict on you is a whole other matter!
We passed another one that said:
Moose-Vehicle accidents to date this season in the park: 13
Caribou-Vehicle accidents to date this season in the park: 1
Then, Zira saw this:
That's a female moose with her calf. They were having a snack of those shrubs you see next to the road. DH stopped the car so we could watch them and I carefully unbuckled Zira from her seatbelt (ok, I freed her from her ziploc in the glove box) and held her to the window for this pic. The calf was pretty cute, he ran around all awkward like. I kept chirping at the moose to get their attention and DH said "are you actually trying to get the moose to
look at you
!". When I replied in the affirmative he told me that was a super bad idea because female moose are really protective of their young and can get a tad upset about being chirped at by a monkey weilding knitter.
After we drove on, another female hopped out onto the highway in front of us. I was happy to get home with the car intact.
More trip info tomorrow. I have vacationing to do! If you want any other information about anything I post about (or just to let me know you are reading), leave a comment....I'm happy to tell you more if you are happy to read!