Welcome to Zira's final post from Newfoundland.
While Zira was with me, I tried to show her a few things about food. One night we went out for fast food at my favourite place "Mary Brown's". I've seen at least a couple of these spots in Ontario but they aren't the same, at all. The best thing about Mary Brown's is the taters (with gravy, of course):
I'm getting all drooly just thinking about them. When I was a kid, Mary Brown's slogan was "Mary Brown's got the best legs in town". I hear that one restaurant was going to offer extended hours and unthinkingly put "open 24 hours" under their main slogan. Not good, not good at all.
When I was young their mascot was a cartoon of a woman carrying a platter of fried chicken but a while back they changed it to a drawing of a more realistic woman who lookes JUST like my Grade 6 teacher. Freaky.
Other times Zira ate at home. Here is a favourite meal of mine, pea soup with dumplings: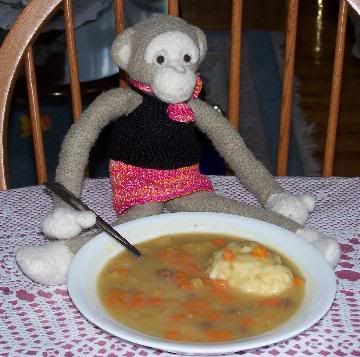 You may have had it elsewhere but I bet it isn't as tasty as in Newfoundland. We cook it with chunks of naval beef (salted beef that was suitable for sailors to take to sea because it wouldn't spoil). I could eat it till I burst!
Frankly, this next meal is not a fav of mine but it is pretty authentic Newfoundland cuisine so I will talk about it: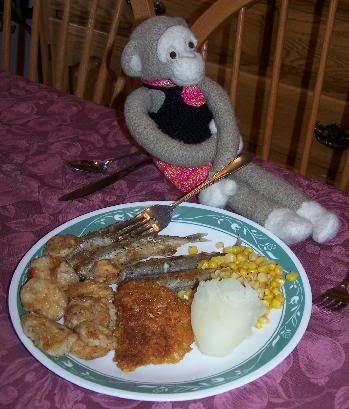 Here we have (clockwise) corn, potato, pan fried cod filet in a crumb crust, fried cod tongues and capelin.
Yes, I said cod
tongues.
They are basically the flesh on the bottom jaw of the fish plus its tongue (a little gelatinous bit on the meat). For the most part, it tastes like the rest of the fish but the actual tongue has a texture that displeases me - call me crazy!
Capelin is another thing I can live without. They are small fish that roll onto the beaches in the province to spawn. As a kid I remember wading in the surf with a bucket, catching the little guys. You fry 'em up, skin, eyes and all and chow down. Some people pick out the bone or take the skin off or leave the heads but my dad eats every bit. He'll even eat leftovers cold from the fridge like (and I quote) "a candy bar". Gag!
Ok, sorry if I made you a bit queasy....I'm done with food.
We also took Zira for a walk on a nature trail that goes through the centre of Corner Brook. She stopped to see the tallest building in town:
This was the tallest building I saw (all 10 stories of it) until I went to Montreal to visit DH when we were in university. It houses a lot of government offices and the public library.
On our nature walk, Zira decided to let loose: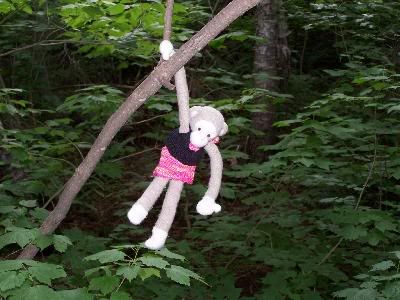 I couldn't resist.
I even got into a picture with her:
Here we are standing in front of the Glynmill Inn, a nice hotel in town that used to be a residence for paper mill employees back when the mill first opened. The pond you see behind me is manmade and is used for the swimming portion of the Corner Brook Triathalon (on the World Cup circuit).
All too soon, our visit with Zira had to end. Our postal inspector gave her a check before she went:
Then, she got back into her box:
And got into my suitcase to be mailed off to Illinois from Ontario. It was fun Zira! See you at your next stop!
Ok, knitting. Remember a few posts ago, I told you that I went to "Aunt Maggie's Homespun"? Well, here's what I got (for $30):
It's 100% wool. Eight skeins of "Red Heather", enough for an adult sweater. I'm thinking of getting the Rogue pattern and trying that (although I was imagining it in blue). I also got a skein of light grey and a skein of ragg, each has enough yardage for a pair of socks, a hat or mittens. Woo - hoo.
Here's a closeup of the yarn: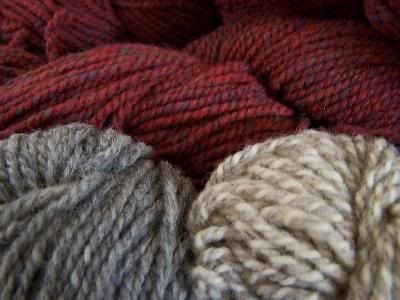 I'd show you my caribou antler buttons but I haven't yet located them in the malestrom that is my luggage. I hope I didn't leave them in Newfoundland.