GT & I went to dinner with Zira. When Zira turned to the very first page, she was amused and insisted that I show all of you: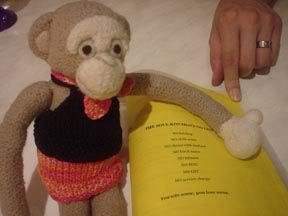 Click on the photo for a close up look of what it says....

GT almost died for he is one that can't go without chilli if he can help it. I mean, he literally heaps chilli sauce onto everything he eats (like white rice, yes, he does that!) , except for desserts! But the food was so good - I'll spare you all of the food photos lest your drool get onto your keyboards. [grin] Too bad this restaurant is closing in November.